Who Are the People of Canada, Anyway? : Waiting for the Next Referendum
by "Citizen X"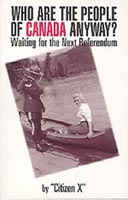 A fresh introduction to the aggravating permutations of the never-ending debate on the future of Canada and Quebec.
Who Are the People of Canada, Anyway? argues that if the Quebec sovereigntist movement ever were to win another sovereignty referendum, the rest of the country should just promptly offer a version of "sovereignty-association" that works as well for the rest of us as it works for Quebec. Until this happens (if it ever does), the best policy for Canada outside Quebec is to do "nothing at all."
"Brings sanity to many issues … refreshingly level-headed … refreshingly philosophical." (Patrice A. Dutil, Literary Review of Canada)
"I noted, with considerable interest, how Harold Innis's image of the fur trade, and the multiracial voyageurs, inspired X … Through a series of informal, amiable chats with relatives and friends, X manages to air a fair number of complex issues. Two important points that he stresses: The people of Canada are themselves in danger of being overruled by propaganda … and we must have a story or myth, a dream to help transform us … interesting impressions … personable and anecdotal." (B.W. Powe, Globe and Mail)
240 pages, 140 x 215 mm, softcover, 44 statistical exhibits. ISBN:1-896973-02-7.
NOT IN PRINT. Used copies currently available through Amazon.ca.