On the Road in the GTA : An eclectic guide to the exurban sprawl of Greater Toronto
by Michael J. Seward and Randall White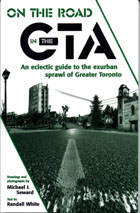 This lively account of contemporary travels through the human geography of the Greater Toronto Area combines more than 100 line drawings and photographs by Toronto artist Michael J. Seward with a text by historian Randall White.
The two authors grew up in the older City of Toronto, as it used to be during the generation that followed the Second World War. They have lately been exploring the vast exurban sprawl that has subsequently arisen in what Jane Jacobs calls the "city region" of the early 21st century. At least a little like Jack Kerouac, in still another time and place, they have gone on the road, in pursuit of what has happened to the Toronto of their youth.
The book concentrates on the two dozen area municipalities in the "905"sub-region of the GTA, beyond the City of Toronto — from the City of Burlington and the Town of Oakville in the west, to the Town of Georgina and Brock Township in the north, and Scugog Township and the Municipality of Clarington in the far east. Each place is covered by drawings, photographs, and an accompanying interpretive text that focuses on local history, geography, demography, and key points of human interest. The volume concludes with a long glance at the new amalgamated City of Toronto. The end result is an intriguing and user-friendly guide to the various diversities of current city-region life. As the authors explain: "This is our own eclectic report on what the GTA looks and feels like today — and on at least a few of the things you might discover if you choose to explore the place yourself."
Michael J. Seward has exhibited his paintings and drawings at a wide assortment of galleries and shows in Ontario and New Brunswick. Randall White is the author or co-author of a number of earlier books, including Ontario 1610-1985: A Political and Economic History, Fur Trade to Free Trade: Putting the Canada–US Trade Agreement in Historical Perspective, Toronto Women: Changing Faces 1900–2000, and Ontario Since 1985.
144 pages, 140 x 215 mm, softcover, b&w illustrations and maps. ISBN 1-896973-32-9.
NOT IN PRINT. Used copies currently available through Amazon.ca and AbeBooks.com.