The Night-Coloured Pearl : A Taoist Adventure
by Tzunami Renivaro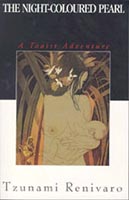 A gripping piece of contemporary imaginative writing, driven by the precepts of Taoist philosophy and a new age love story, about Chalney and Ashta, and their adventures on and off the mystical island of Padenom.
If some unbearable misfortune were to befall your neighbour/Would you, if you were able, undo your neighbour's misfortune/By taking on a bearable misfortune of your own?/And if so, would you still do it, knowing that the memory of your good deed/Would be wiped clear forever from your own memory and the memory of all others?'
"The Night-Coloured Pearl falls into the genre of New Age adventure novels, along the lines of The Celestine Prophecy."(Kate Jaimet, St. John Telegraph Journal).
"The Night-Coloured Pearl is better than The Celestine Prophecy greater character development, a more credible plot … a contemporary fable of good and evil." (Bill Maclean, Beach Metro News, Toronto).
288 pages, 140 x 215 mm, softcover, ISBN:1-896973-06-X.
NOT IN PRINT. Used copies are available on the Amazon.com wesbite.