Toronto Women — Changing Faces, 1900 – 2000: A Photographic Journey
by Jeanne MacDonald, Nadine Stoikoff, and Randall White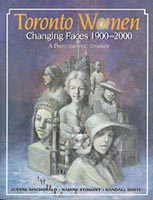 Our top-selling time-traveller's guide to the highly varied images of the many different women, from all walks of life, who did so much to make Canada's civilized biggest city what it became in the twentieth century.
"A gem of a book … a teasing reminder of our complex evolution as liberated women' … The pictures are fresh, sometimes funny, evocative in unexpected ways of their time and place and the captions … add up to a kind of short-order menu of women's existence in the city … Any stereotype of women's past that you bring to the book will be glancingly confirmed or lightly challenged … a fine farewell to the Toronto we knew and which is now ending." (Michele Landsberg, Toronto Star)
"If I were in charge of filling a time-capsule for future mortals, I would probably urge that this book belongs there … I like the fact that these women in these strong photos are, many of them, unknown (though there are exceptions like Agnes Macphail, Mary Pickford, June Callwood and Marilyn Bell, Betty Kennedy, Doris Anderson) … these 144 pages are much more than a celebration of Toronto's women over a century. They are also a remarkably well-rounded and concise history of the city … The text sparkles with fresh historical insights … Every page, every sentence counts … worth dipping into again and again." (Judith Adams, View from the Danforth)
144 pages, 215 x 275 mm, softcover, 120 illustrations. ISBN:1-896973-04-3.
$50 (Can), includes postage to locations in Canada and the United States. Order by mail or through Pay Pal below:
Outside Canada and the United States, $60 (Can). Order by mail only. See "Order Books."